Self Help Graphics & Art is undergoing leasehold improvements, and its offices are closed during this time. However, we are still operating offsite. We are here to answer any inquiries or questions you may have, so please call us at 323-881-6444 or email  This e-mail address is being protected from spambots. You need JavaScript enabled to view it


ONE DAY ONLY - Art Inventory Sale - Up to 40% Off
THE ONE TIME OF THE YEAR TO GET THAT RARE PRINT!
Sunday, February 8!
Most items will be 40% off our already great prices! We have fine art prints by Gronk, John Valadez, Judithe Hernandez, Vincent Valdez, William Acedo, Yolanda Gonzalez, Shizu Saldamando, Jose Lozano, Raymond Pettibon among many other artist editions.
MERCADITO DE AMOR

ART - GIFTS - MUSIC - LIVE PRINTING
Sunday, February 8, 2015
12PM to 5PM | FREE
2002 East 1st Street,
Boyle Heights, CA 90033
Self Help Graphics & Art & Social Machine Productions invite you to a Mercadito de Amor (12pm to 5pm). High quality crafts, food and fine art for that special someone (including yourself) in your life.
Featuring Live Music by Trish and the Blue Tones, and Printmaking by local printmaker and teaching artist, Dewey Tafoya of Social Machine Productions! *Bring your own tees/totes/hoodies and refashion them with $5 prints!
Support your local artists and small businesses!!!
NOCHE DE ARTE Y AMOR
THE NATURAL HISTORY MUSEUM
ART | TACOS | TEQUILA
Noche de Arte y Amor, Night of Art and Love
Friday, February 13, 7-10 pm
900 Exposition Blvd. Los Angeles, CA 90007
In honor of our special exhibit, Grandes Maestros, we're calling Cupid to help us throw a Latin-inspired art night. Bring your flame, friend, family, or come ready to be wooed. Enjoy an evening amongst Iberoamerican folk art, music, a complimentary tequila tasting, specialty cocktails, free tacos and desserts and a chance to get crafty. You can even make something special for your Valentine in a mini-workshop led by Self Help Graphics & Art. Celebrate Valentine's Day a day early with us - on Friday, February 13. Love will be in the air!
Cost: Members: $22, Non-Members: $30
Purchase tickets here or over the phone at 213-763-3499
LIKE TO LEAD AND PASSIONATE ABOUT ART?
JOIN SELF HELP GRAPHICS & ART'S
BOARD OF DIRECTORS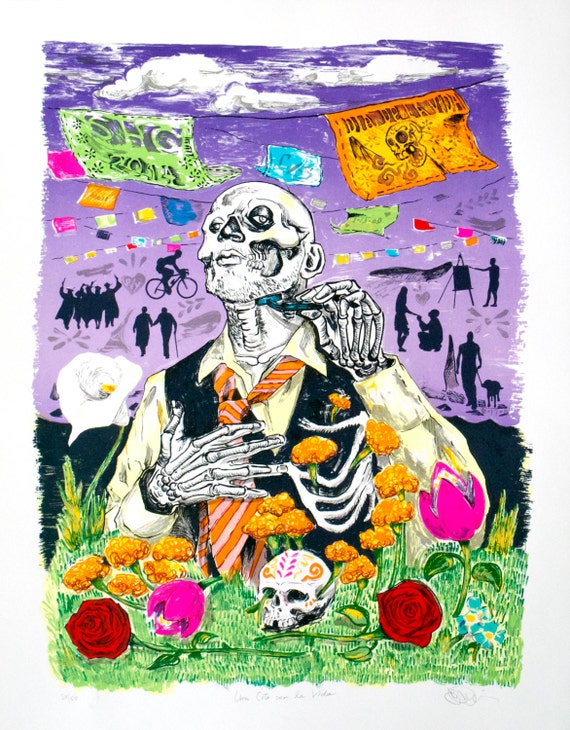 Self Help Graphics & Art is seeking candidates for the Board of Directors with financial backgrounds. We are looking for board members that could serve on the Finance Committee that have professional financial skills and characteristics that include:
* Financial Knowledge - Thorough understanding of financial reports and reporting, with some knowledge of nonprofit financial terminology and requirements.
* Communications - Able to translate financial information and financial concepts for the board. At times be able to present financial reports at board meetings, and explain and/or re-frame information for the board. Interpret and translate board questions, goals, and/or concerns about the financial information or financial situation to staff.
* Planning - Partner with the Executive Director, Bookkeeper and Accountant to develop annual budgets and cash flow reporting. Conduct budget discussions and convey budget information to the board. Assure budget priorities and decisions reflect the intentions and objectives of the board.
* Strategy - Working with the Executive Director, assess, analyze and create financial options and decisions for long-term goals and initiate discussions to connect finance and mission. For more information, please email This e-mail address is being protected from spambots. You need JavaScript enabled to view it
IM

PORTANT LEASEHOLD IMPROVEMENTS
& FACILITY UPDATE
Self Help Graphics & Art is beginning facility leasehold improvements, and will the administrative be periodically closed during this time. We are still here to answer any inquiries or questions you may have, so please call us at 323-881-6444 or email This e-mail address is being protected from spambots. You need JavaScript enabled to view it .
Self Help Graphics & Art will premiere its revamped space with the launch of a special 40th annual special prints exhibition with a date soon to be announced.
Select programming will continue at alternate sites during this time.